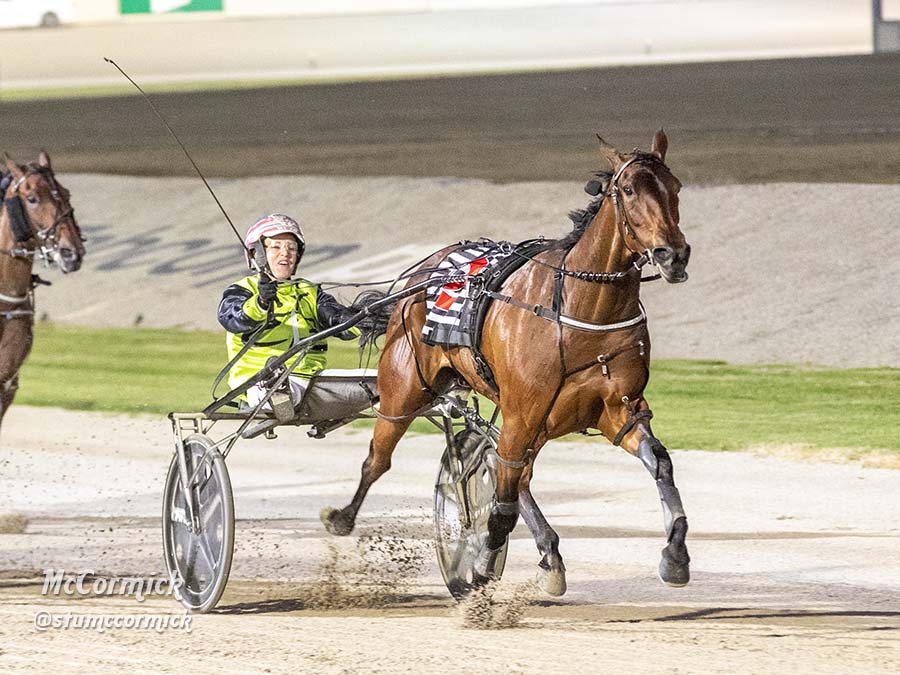 Tough Tilly secured the win she richly deserved and with it rewarding the outstanding foundation she represents, as reinswoman Kate Gath steered the butterfly silks to victory for the EB Research Partnership Australia.
From her 10 starts leading into tonight, the Emma Stewart-trained two-year-old had won three times and finished second on six occasions, most often to previously unbeaten stablemate Ladies In Red.
But tonight Gath and Tough Tilly were able to turn the tables on their nemesis, using their favourable draw to easily claim the lead and then dictate terms to the line.
CLICK HERE FOR THE RECAP OF EVERY VICBRED SUPER SERIES GROUP 1 WIN
"Everything finally came about tonight, so we could make a real race of it and once we got that cheap lead I was just happy to have a crack and see if she could beat us, and Tilly proved tonight that she is tough just like her name says and she was just too good for her," Gath said.
"No race I have more wanted to win for EB Research, Tilly Wilkes, everyone suffering with EB – it's just a great story and I'm so lucky to be a part of it.
"It brought a tear to my eye. It's just so important, we can't find a cure for any of these diseases unless we raise awareness and just keep at it and at it and at it and raise much-needed funds to help find a cure.
"For Emma (Stewart), Tough Tilly's always been a bit of a favourite of hers, we were both over the moon to get a win tonight."
WATCH THE REACTION OF TOUGH TILLY'S CONNECTIONS:
Stewart trained the first five fillies home in an extraordinary result for the stable, while Gath produced her second Group 1 drive for the night after pouring the pressure on with a 54.7-second last half to make it all but impossible for Ladies In Red to make ground.
"(It was) unlike the Breeders Crown, where the lead time was 44 or a little bit quicker (and) I thought I needed to get a second quarter breather. (That meant) Ladies In Red could dictate to me," Gath told Trots Vision.
"Tonight, the lead time was slow and so we could throw caution to the wind and say catch us if you can."
MISS LAST NIGHT'S BRILLIANT FREE-TO-AIR COVERAGE? CLICK HERE TO WATCH NOW ON 7PLUS